ACIMA LEASING
Get what you want, when you need it.
Instant Decisions
90-Day Purchase Option Available
Apply Now
No Credit Options With Early Purchase Options.
The advertised transaction is a rental purchase agreement (rent-to-own agreement, consumer rental-purchase agreement or a lease/lease-purchase agreement depending on your state) provided by Acima. You will not own the merchandise until the total amount necessary to acquire ownership is paid in full or you exercise your early purchase option. Ownership is optional. Approval subject to review and verification of your application. Not all applicants are approved. Approval amount based on retail price of host retailer. The Acima cash price may include a markup over invoice price. Acquiring ownership by leasing costs more than the retailer's cash price. See your lease for payment amounts and rental terms. *"Shop without credit" means that this is not a credit, loan, or financing transaction. We consider multiple data points in reviewing your application and regularly approve customers with less than perfect credit history
SNAP! FINANCING
Snap Finance offers consumer loans to all credit types, but it especially helps those who've had credit challenges in the past and may not qualify for traditional financing. Snap's application is EASY, and you'll find out in seconds if you've been approved.
To apply, you'll need to:
Be of legal age to enter into a contract
Have a steady monthly income
Have an active checking account
Provide a valid email address and phone number
With approvals up to $3,000, don't wait – get what you need TODAY with Snap!
*The advertised financing is provided by a merchant partner, an affiliate of Snap, or Transportation Alliance Bank d/b/a/ TAB Bank. For more detailed information, please visit Snap's Privacy Policy at www.snapfinance.com/privacy.
Apply Today
Manage my account
NAPA EASYPAY FINANCING
Special Financing Available* on qualifying purchases made with your NAPA EasyPay Credit Card at participating locations nationwide. See store for details.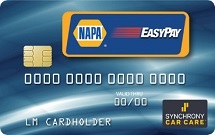 Finance the products and services your vehicle needs to be at its best. Enjoy affordable repayment options that free up your budget and allow you to retain reliable transportation.
Extend your Peace of Mind Warranty to 36 Months/36,000 miles when you make your qualifying repair and services purchases using your EasyPay credit card.
Apply Today
Manage my account
Performance Tire & Wheel serves Gulfport, MS, D'Iberville, MS, Biloxi, MS, and surrounding areas.
Great Reasons to Become a Cardholder
Add the NAPA EasyPay Credit Card to your wallet and enjoy great cardholder benefits:
Accepted at gas stations nationwide**
Exclusive cardholder discounts
Convenient monthly payments
Accepted at over 25,000 Synchrony Car Care locations
No annual fee***
Online Account Management
Increase your purchasing power and budget responsibly with small repayment options. Become a cardholder and never put off today what could strand you tomorrow.
Extend Your Peace of Mind Warranty
The NAPA Peace of Mind Warranty is included FREE on qualifying services performed at NAPA AutoCare Centers. The original warranty is valid for 24 months/24,000 miles. When you use your NAPA EasyPay credit card, that warranty is automatically extended to 36 months/36,000 miles.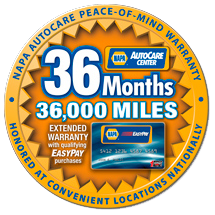 Drive nationwide without worry when you choose NAPA for your wallet and your vehicle.
Get started - apply now!
*Subject to credit approval. Minimum monthly payments required. See store for details.
**Gas purchases not eligible for promotional financing. Subject to credit approval. Valid everywhere Synchrony Car Care is accepted in the U.S. & Puerto Rico
*** For new accounts: Purchase APR is 29.99%; Minimum Interest Charge is $2.
BRIDGESTONE CREDIT CARD
At Performance Tire & Wheel, we always want to take care of your tire and service needs.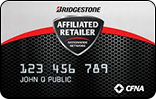 By becoming an exclusive Bridgestone credit cardholder, you have a dedicated line of credit just for your car, plus these benefits:
No annual fee
Stress-free financing with low monthly payments
Easy application process
DEFERRED INTEREST IF PAID IN FULL WITHIN 6 MONTHS*
$149 Minimum purchase required. Interest will be charged to your account from the purchase date if the purchase balance is not paid in full within 6 months or if you make a late payment.
*MINIMUM MONTHLY PAYMENTS REQUIRED. APR: 28.8%. Minimum Finance Charge: $2.00. Terms are subject to change.
CFNA is the bank behind your automotive credit card.
CONTACT US ABOUT PURCHASE OPTIONS